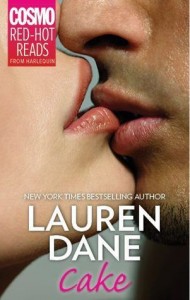 Why I read it:  I'd heard good things about this novella, which is part of the Cosmo Red Hot Reads line from Harlequin, launched this month so I requested a review copy via NetGalley. Cake releases on September 15 but is available for pre-order now.

What it's about: (from Goodreads)  She won't be satisfied with just one bite…
Art student-slash-bike messenger Wren Davis pursues what she wants. And what she wants now is Gregori Ivanov, rock star of the Seattle art scene. With his tattoos, piercings and sensual sneer, Gregori is the ultimate bad boy. Wren's gotten to know the man beneath the body art, too—and it only makes her crave him more.
But Gregori loves women like he loves cake and champagne—intensely, but only for the moment. And after Wren experiences just how scorching sex with Gregori is, she's determined to show him that just one taste won't be enough…
What worked for me (and what didn't):  I must admit that this book had a lot more story than I was expecting. This probably says something about me more than anything, but I was kind of expecting to jump straight to the sex and for there to be not much characterisation.  Something about it being a "Red-Hot Read" perhaps?  I'm happy to say I was wrong.  There is a story and the pair don't just jump into bed.  There's sexual tension and flirting but the reader is given a chance to get to know the characters a bit before there is any horizontal tango-ing.  There are some books which jump straight to the sex and that can work fine for me – and, it is to be noted that I requested this book even with those expectations.  The story is short – about 87 pages so there isn't a lot of time for huge backstory and character development but I thought the author used the page count cleverly to introduce two characters to me and make me believe their happy ending.

I enjoyed Wren's forthright pursuit of Gregori and her sexual confidence.  Even though Gregori tends to dominate in the bedroom (though not always), she is no wilting violet.  She has to chase Gregori a little (but not so much as to feel desperate or pathetic) to make this relationship happen. It is nice to read about a woman who is confident enough to go after what she wants and not be shamed for it.
She wanted Gregori. Had for some time. Given the way he touched her, the way he reacted when they were together, she was convinced it was mutual.

But she had work to do and he had work to do and there was no need to rush. She'd get what she wanted in the end and he really needed to get used to that.
Gregori is very relationship shy. He had a fairly disastrous marriage, a messy divorce and has lots of hangers-on who want to use him.  He's very cautious but Wren is like no other woman he's ever known.  She is an artist too and understands his temperament, is able to give him creative space and doesn't demand anything from him like many others do.
He'd fought it but she'd simply flowed into his life and he liked it.
However, Gregori is terrified that, with his track record with relationships he will lose even Wren's friendship.  He can't imagine her not in his life but he's convinced he's a poor relationship bet. In short, he's scared.
That's why he's trying to push you away. He knows how to handle those people. He can keep his distance and they can't hurt him. But you're different. You leave him vulnerable. He doesn't do vulnerable very well.
Wren is a kickass heroine in this story. She doesn't use a sword or a gun or do any fancy martial arts moves but she is the one who decides what's worth her time and goes for it.
The sex, when we get to it, is very hot and the story flows very well for its length.  I did feel the ending was a little bit rushed as was Gregori's turnaround and perhaps Wren was skirting the edge of being just too pushy, but I think all of those things were more a product of the length of the story than anything else.  The novella was a lot of fun and I enjoyed it.
Grade: B