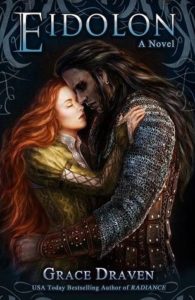 Why I read it:  I enjoyed Radiance and bought the sequel as soon as I knew it was out.  (Actually, I remember Radiance much more fondly with hindsight. It's a book, I have decided, which gets better the more one thinks about it. If I were to grade it now, it would be far closer to an A than the B I originally awarded it.)

What it's about: (from Goodreads)  In a bid for more power, the Shadow Queen of Haradis has unleashed a malignant force into the world. Her son Brishen, younger prince of the Kai royal house, suddenly finds himself ruler of a kingdom blighted by a diseased darkness and on the brink of war. His human wife Ildiko must decide if she will give up the man she loves in order to secure his throne.
Three enemy kingdoms must unite to save each other, and a one-eyed, reluctant king must raise an army of the dead to defeat an army of the damned.
A tale of alliance and sacrifice.
Note: Spoilers for Radiance follow. Eidolon is not a stand-alone book. It is necessary to read Radiance first to understand what's going on.
What worked for me (and what didn't):  Strangely enough, when I started this book, I wanted to immediately stop and then go back and re-read Radiance (I still may do that actually). Seeing Brishen and Ildiko on the page again reminded me about how much I loved reading their romance. I  said about Radiance that it had little by way of internal conflict, which is true. But it also meant that they had an instant connection and basically were fairly sympatico right the way through the story. I had forgotten how much I enjoyed watching their love blossom.  Once the news of the events at the palace in Haradis reaches Saggara, there is both internal and external conflict galore. If Brishen is the king, he will need heirs of his body. Ildiko cannot give him those heirs, being a different species to her husband. Further, it is unlikely the Kai would accept her as queen in any event. Bastardy is a stain on one's honour and the Kai do not have polygamy. If Brishen is king and if the king is to do his duty, then he and Ildiko must surely part, mustn't they?