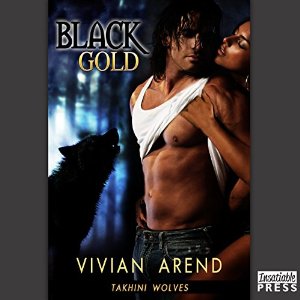 Why I read it:  I received a review copy via the author.

What it's about: (from Goodreads)  Their wolves are howling at the moon. Their human halves are on different planets.
Lone wolf Shaun Stevens's automatic response to the words "happily ever after"? Kill me now. Yet with all his friends settling down he's begun to think there may actually be something to this love-and-roses crap.
One thing's for sure: his dream mate will have to out-cuss, out-spit and out-hike him. So he never expected the one to push his forever button would be a blue-blooded Southern debutante with a voice as dark and velvety as her skin.
When Gemmita Jacobs steps off the plane in Whitehorse, Yukon, it's about more than her caribou research project. It's her declaration of independence from an overprotected upbringing. Except there's something in the air she can't quite define—something that unexpectedly rouses her mating instincts.
Moments after their eyes lock, the deed is done—and done thoroughly. When the pheromone dust settles, though, all the reasons they don't belong together become painfully clear.
It's enough to make a wolf learn a whole new set of cuss words…
What worked for me (and what didn't):  This is the first Vivian Arend shifter book I've read or listened to. I have a few on the TBR of Doom (TM Shannon Stacey) but haven't gotten to them yet.  I have a feeling that Evan, the Takhini Alpha and Shaun, our hero, may have appeared in a previous book/series, or at least the context in Black Gold seems to indicate that's the case. I suppose this made me feel a little bit lost at times but it wasn't a major drawback.
Shaun is a lone wolf who has recently rejoined the Takhini pack. I gather he has a reputation of breaking the rules and pleasing himself. He's nice enough but not terribly reliable in the sense that he will do what he wants to do and what suits him rather than what might be good for the pack or for others. He is feeling dissatisfied however. He longs for a mate and for deeper connections. He is ready for a change.