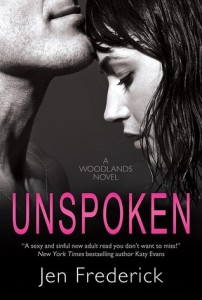 Why I read it:  I received a review copy from the author.

ETA April 2015: At the time I accepted/read the book and wrote the review, I didn't know Jen Frederick was also Jane Litte from Dear Author.  No Jen Frederick books have been reviewed by me, anywhere, since I became aware of this and, given my existing relationship with Jane, I will not be reviewing any more of her books.  I will continue to update my personal Goodreads account with all the books I read as per usual but, consistent with my review policy, there won't be further formal reviews of Jen Frederick's work.
What it's about: (from Goodreads)  Whore. Slut. Typhoid Mary.
I've been called all these at Central College. One drunken night, one act of irresponsible behavior, and my reputation was ruined. Guys labeled me as easy and girls shied away. To cope, I stayed away from Central social life and away from Central men, so why is it that my new biology lab partner is so irresistible to me?
He's everything I shouldn't want. A former Marine involved in illegal fighting with a quick trigger temper and an easy smile for all the women. His fists aren't the danger to me, though, it's his charm. He's sliding his way into my heart and I'm afraid that he's going to be the one to break me.
Impulsive. Unthinking. Hot tempered.
I allow instinct to rule my behavior. If it feels good, do it, has been my motto because if I spend too much time thinking, I'll begin to remember exactly where I came from. At Central College, I've got fighting and I've got women and I thought I was satisfied until I met her.
She's everything I didn't realize I wanted and the more time I spend with her, the more I want her. But she's been hurt too much in the past and I don't want to be the one to break her. I know I should walk away, but I just can't.
What worked for me (and what didn't):  After reading the first book in the series, Undeclared, I was keen to see what the author would come up with next.  The first book was a bit of a mixed bag for me but I certainly wanted to keep reading the series.  This one was for me, a much stronger book. The plotting was tighter and more cohesive and there were barely any errors or typos.  There were more of the things I liked in the first book (much more) and less of the things I didn't like (much less).  If the first book was a bit of a mixed bag, this book was a bag of goodness.