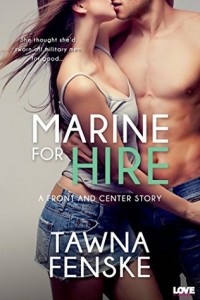 Why I read it:  I bought this a while back.

What it's about: (from Goodreads)  "She thought she'd sworn off military men for good…"
Sam Kercher is every inch a wickedly hot Marine. Tall. Sexy. Lethal. When his best friends call in a favor, Sam is forced to face an entirely new line of duty-playing nanny for their newly divorced sister and her squirming seven-month-old twin boys. If Sam can dissemble an M16 in his sleep, diaper duty should be a cakewalk…right?
Unfortunately, Operation Nanny isn't quitethat simple. Sheridan has sworn off overbearing military men, so Sam must protect her from her dirtbag ex without revealing just how much he has in common with her brothers. Or that he's been ordered not to touch her. Ever. Problem is, Sheri's one hell of a gorgeous woman, and Sam wants her bad. Protect the girl. Care for the babies. Hide his identity. And keep his hands off. But even the most disciplined Marine has weaknesses…and Sheridan is one Sam might not be able to resist.
What worked for me (and what didn't):  One of this author's books was a DA Daily Deal a couple weeks ago and someone mentioned in the comments that Tawna Fenske writes funny. I was in the mood for funny so I dug this one out of Mt. TBR. (I also bought the daily deal book.  Are you surprised?)

The set up is over the top. Sheridan's brothers are uber alpha males who know what's best and are very VERY protective of their little sister. When "Lieutenant Limpdick" aka, Sheri's husband cheats on her with a stripper from Arkansas when their twin boys were barely a month old, Sheri kicks his ass to the kerb. The divorce is now final but Limpdick is making noises about a reconciliation. MacArthur "Mac" Patton (Sheri's eldest brother) wants to keep the douchebag away from his sister and make sure those babies (now seven months old) are safe too. Sheri is just about to start a new job and needs a nanny. The ex-husband has two weeks before he's due to leave Hawaii for another posting. Mac asks his friend, Sam Kercher, to take the job as "manny" for two weeks, while Mac lines up an actual nanny. He's to keep the douchebag away from Sheri and look after the babies and Mac's little sister, all the while hiding that he's a Marine. And, he's got to keep his hands off Sheri. (Like that's ever gonna happen).
Sam said. "You're aware that this is insane, right? I don't know how to cook or change diapers or get baby vomit out of cashmere."

"It's Hawaii. No cashmere needed, and baby vomit blends nicely into floral-patterned shirts."