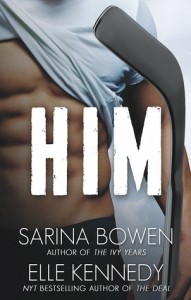 Why I read it:  I was provided with a review copy via the authors.

What it's about: (from Goodreads)  They don't play for the same team. Or do they?
Jamie Canning has never been able to figure out how he lost his closest friend. Four years ago, his tattooed, wise-cracking, rule-breaking roommate cut him off without an explanation. So what if things got a little weird on the last night of hockey camp the summer they were eighteen? It was just a little drunken foolishness. Nobody died.
Ryan Wesley's biggest regret is coaxing his very straight friend into a bet that pushed the boundaries of their relationship. Now, with their college teams set to face off at the national championship, he'll finally get a chance to apologize. But all it takes is one look at his longtime crush, and the ache is stronger than ever.
Jamie has waited a long time for answers, but walks away with only more questions—can one night of sex ruin a friendship? If not, how about six more weeks of it? When Wesley turns up to coach alongside Jamie for one more hot summer at camp, Jamie has a few things to discover about his old friend…and a big one to learn about himself.
What worked for me (and what didn't):  Ryan "Wes" Wesley and Jamie Canning meet up again for the first time in four years at the NCAA Frozen Four Championship in Boston. They met at "Elites" a spiffy hockey training summer camp they both went to as kids.  Every year, Wes and Jamie hung out together at the camp in Lake Placid and their bond of friendship was strong. 
Wes is gay and out at college but preparing to head back into the closet, at least for a while, when he starts playing for a Toronto NHL team after graduation. He figures he will need to prove himself to the team before he can risk his sexuality becoming known.  His plan is to be celibate for a good long while. Not something he's looking forward to.  At college, Wes didn't hide his sexual orientation but he also didn't flaunt it. It was kind of an open secret and apart from with one of his (straight) buddies on the team, it wasn't discussed.