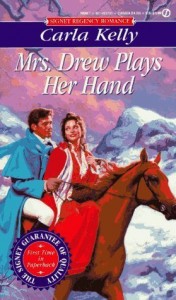 Why I read it:  My good friend Merrian gave this book to me when she last visited Adelaide.  I started reading it on the plane when I headed to Sydney for the ARRAwards on Saturday 22 March.  (Sadly, the Australian aviation authorities haven't got with the programme and they still make you turn off your electronic devices for at the beginning and end of flights.  If you're stuck on the runway for a while, you're outta luck if the only book you have with you is digital. On the other hand, it did lead me to pick up a paper book and it was good, so there's that.)

The picture to the left is the cover of the version I have but the happy news is that the books have been digitised and re-published by Cedar Fort Inc and are at most etailers.
What it's about: (from Goodreads)  Playing with Fire — Young widow Roxanna Drew was fair game in the sport of cads. Her suddenly impoverished state made her as vulnerable as her beauty made her tempting to men with more money than morals. Lord Marshall Whitcomb, who held her purse strings in his pawing hands, was intent on luring her into his bed. But even more dangerous was Lord Winn, who owned the dwelling where she sought refuge. The dashing lord reminded the widow that the lure of sharing a warm bed on a winter's night might indeed be worth the risks.
Lord Winn had trusted one woman and been betrayed. That disastrous marriage had endowed him with a wariness of females in general, and prospective wives in particular. But when the door to the dower house on one of his estates was opened by a woman with a cautious smile and memorable brown eyes, he knew here was danger to avoid at all costs — if he really wanted to…
What worked for me (and what didn't):  I haven't read a lot of historical romance lately and much of that is to do with my mood.  So when I do read a HR book and I love it, I think it says something. Not quite that it starts in negative territory, but that it has to scale a divide between my expectations (of "meh") and reality.  It has to change my mind.  This book succeeded by page 2.  (Literally, I was on a plane, wiping my eyes because there were tears – on page 2!!!)

Roxanna Drew is a widow with two young daughters.  Her beloved husband Anthony had been the local vicar and he had died after a long and unspecified illness.  She has been allowed to stay in the vicarage for six months but she knows that she and her children will have to move and leave behind the memories they all have of Anthony in that place.  The set up is so well done. The brush strokes so deft, that in no time at all, I was empathising with Roxanna.  She doesn't spend much time wallowing and mired in grief – I admired her right from the start (I expect I would wallow, get stuck and stay there), because she tells herself to buck up and get on with things for the sake of her girls. Her philosophy and the book's title are explained thusly:
She leaned against the windowpane, and thought of the everlasting card games she had played with her brothers when they were growing up in Kent. They showed her no mercy, compelling her to play terrible hands to the end, instead of folding the cards and running away to her dolls.  At first she cried and complained to Mama, but then she learned to play the hand dealt to her. Sometimes she won, sometimes she lost, but she never threw down a hand dealt again.