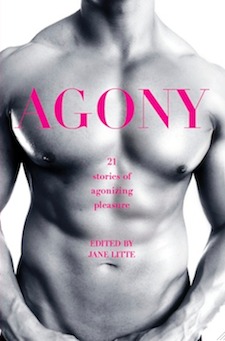 Why I read it: Sometimes, I'm in the mood for a short story, kind of  like a sorbet.  I'd had this on my TBR for some time, having bought it ages ago, and I decided to intersperse the stories with my other reading.
What it's about: (from Goodreads)  All new stories of punishing extremes and unbearable pleasure… 
With historical, contemporary, and futuristic backdrops, this outrageously diverse collection of original stories explores every conceivable variation of BDSM erotica–from knitting circles to the Titanic to a retelling of The Little Mermaid. Featuring all-new stories by Meljean Brook, Jean Johnson, Bettie Sharpe, Jill Myles, Margaret Rowe, Sara Thorn, and more, this book has everything a reader could hope for in an erotic romance.
What worked for me (and what didn't): 

Agony
Transfixed
and
Transformed
, the two stories by
Anne Calhoun
in the anthology (one each in
Agony
and
Ecstasy
) were about the same pairing, one from her POV, one from his.  I liked these stories very much and could happily have read a whole book about them.  That said, the stories did feel complete and I didn't feel at all shortchanged.  For me, these stories showed how a skilled writer can immerse me in a character in a very short space of time.  After I got finished enjoying them, I did sit back and think about how cleverly it was achieved.  Short is not my forte, so I'm particularly impressed when it's done as well as this.
The Sybil by Jean Johson
had a Warprize/Game of Thrones type feel to it.  I liked the worldbuilding which was fairly detailed for such a short story, but the ending was not only unclear but it also bent toward the traditional and that kind of let it down a little I thought.