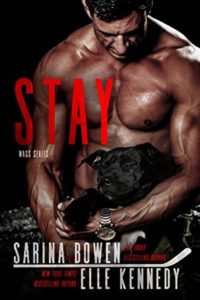 Why I read it:  I've enjoyed the previous books in the series.

What it's about: (from Goodreads)  Can you fall in love with someone you've never even met?
Hailey Taylor Emery has a hunch that her favorite client at Fetch–an anonymous virtual assistant service–is actually hockey star Matt Eriksson.
Although it's against the rules for her to check his file, she's 95% sure she spends at least part of each day texting with her lifelong crush and catering to his every need. Still nursing a wounded heart thanks to her recent breakup, Hailey is perfectly content with some harmless online flirting…until she has to meet her client. Face to face. Cue: utter panic.
Matt Eriksson is no stranger to heartbreak. He's still not over the destruction of his marriage, and it sucks to be the only guy on the team who knows the truth–that hockey and long-term relationships are a toxic mix. He barely sees his kids, and dealing with his ex makes him feel insane. The only person in his life who seems to understand is someone who won't show her pretty face.
But it's nothing that a pair of fourth row hockey seats can't fix. Hailey can't resist the offer. Matt can't resist Hailey. Good thing he doesn't have to. Fire up the kiss cam!
What worked for me (and what didn't):  I enjoy both of these author's books separately and together. Him, Us and Good Boy have all been very successful reads for me. Stay didn't quite hit the the heights of the previous books but I still ripped through it in only two nights and and liked it very much.