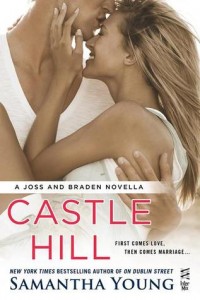 Why I read it:  I received a review copy from the publisher via NetGalley.

What it's about: (from Goodreads)  Braden Carmichael never imagined he'd fall as hard and as fast as he did for Jocelyn Butler. He also could not have anticipated how difficult it would be to convince her to give in to love. But now that he has her, he's never letting go. He's got it all planned—the passionate proposal, the dream wedding, the sexy Hawaiian honeymoon—even the perfect family they'll start.
After trying to flee from her painful past, Joss is finally allowing herself to embrace the future. But when things start moving faster than she anticipated, she finds herself panicking over something Braden can't understand. After everything they've been through, Joss is sure that their love can survive even her worst fears. But, this time, she may push Braden too far—and risk losing everything all over again…
What worked for me (and what didn't):  I enjoyed this novella but I think the dedication is right – it's very much for the Braden and Joss fans. It won't make a lot of sense if a reader hasn't previously read On Dublin Street and even though there is a story arc, it felt to me like nothing much happened in terms of character development.  It was an opportunity to spend more time with a couple many people love but I don't think I was better informed as to their characters by the end.  Sure, things happen during the novella – they get married and have a sexy honeymoon and then their relationship is tested and this time, Braden pulls away.  But I didn't feel like anything was revealed in this novella that I didn't already know about both Braden and Joss in the first book.