on Paper/eBook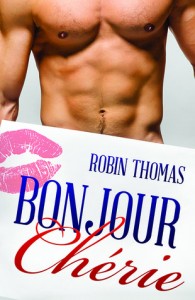 **This review first appeared in the January ARRA members newsletter.**
Bonjour Cherie by Robin Thomas – C+  Beth Jenkins is a 21 year old under-achiever still living at home with her parents, working at the local IGA store.  She's smart, but she's not as smart as her older sister and, knowing she can never win, she gave up competing.  She has one burning ambition.  To go to France.
She has very little money and no immediate prospects of fulfilling her dream, but still.  She's taking Introduction to French lessons at the local TAFE, run by gorgeous Frenchman Andre LeBlanc.  Andre is urbane, pretty to look at and even better, he's French.  Unfortunately, it seems he doesn't share her attraction.  She hasn't given up – she knows they'll be just perfect for each other if only he'd notice her.
When hunky Zach Mills joins the class, sparks fly.  He's flirty and charming but he's also built like a mechanic and he's a local so she associates him with a small town life – a life she doesn't want (even though she's not actually doing much about it herself).
Zach comes to her rescue in little ways but she continually rebuffs him – he's not what she wants – she wants Paris and Andre.
The book is very light-hearted and it's not difficult to see what the barrier to Beth's romantic dreams is when it comes to Andre and that there's much more to Zach than first impressions.  I couldn't help feeling that Beth ended up being a little too 'material girl' when it came to Zach – he wasn't acceptable boyfriend material as she assumed him to be – it was only later when, to paraphrase Pride & Prejudice, she saw Pemberley (metaphorically speaking) she realised that maybe she'd made a mistake.
I was pleased that by the end of the story Beth had decided to start living her life and reaching for her dreams rather than waiting for them to come to her and of course, there is a happy ending.  There is a very Australian vibe to the novella and it was a fun evening's read.
Coming Soon