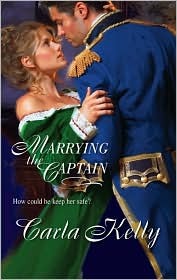 Why I read it:  This one was recommended to me by my friend Merrian. I bought it a while ago. My experience with Doing No Harm recently was so positive, I wasn't ready to let the vibe go, so I dug this one out of Mt. TBR.

What it's about: (from Goodreads)  Ever since her father tried to sell her as a mistress to the highest bidder, Eleanor Massie has chosen to live in poverty. Her world changes overnight when Captain Oliver Worthy shows up at her struggling inn. Despite herself, Nana is drawn to her handsome guest….Oliver planned to stay in Plymouth only long enough to report back to Lord Ratliffe–about Nana. But he soon senses that Lord Ratliffe is up to something, and Oliver will do anything to keep this courageous, beautiful woman safe–even marry her!
What worked for me (and what didn't):  Marrying the Captain was my third Carla Kelly book. It was different to my first two experiences in two major ways. First, it took me a little time to get into. Partly that was because I had trouble getting my head around the heroine's name being "Nana". Yes, I know that it was a not-uncommon name in that place in that time but I had an actual Nana and I struggle to see her as a romance heroine (besides, she was only ever old when I knew her and terribly overweight as well so nothing like Nana Massie who was thin due to lack of food at the start of the book.) But it was not just the heroine's name. I can't really say what it was exactly, but it wasn't until I was about a third the way in that I settled into the rhythm of the story whereas, I found the previous two Kelly books were instantly immersive.