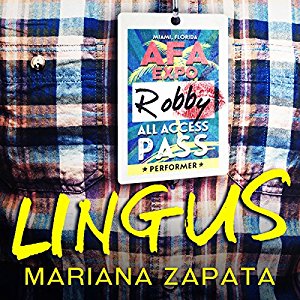 Why I read it:  This is one from my own TBL.

What it's about: (from Goodreads)  Most people would describe Katherine Berger as a responsible girl with a big heart, a loyal friend who takes care of those close to her, and the possessor of a wicked sense of humor. There was something about her that most people didn't know. "My name is Kat Berger, and I love porn." 
When twenty-five-year-old Kat is dragged to a porn convention by her best friend, she's both embarrassed and nervous. The last thing she ever expected was to meet someone who makes her laugh like no other. This is a story about acceptance and friendship, and a love born out of the most unexpected of places.
What worked for me (and what didn't):  Via some Goodreads friends, I saw that this one is apparently pulled to publish (P2P) fan fiction – apparently it was Twilight fan fiction. I don't get bent out of shape about this kind of thing, particularly when the the story really bears little or no resemblance to the original story the author was riffing on. And apart from that Kat at one stage mentions she's name a character in one of her books (she's a teacher but writes murder-mysteries in her spare time) "Christian" which might have been a nod to Fifty Shades of Grey, I really couldn't see any resemblance to Twilight in this story.