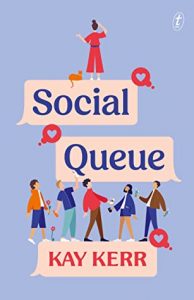 Why I read it:  I was provided with a review copy by the publisher. The book is currently only available in/from Australia and New Zealand.

What it's about: (from Goodreads) 'I thought I was nobody's teen crush, but turns out I was just missing the signs.'
Zoe Kelly is starting a new phase of her life. High school was a mess of bullying and autistic masking that left her burnt out and shut down. Now, with an internship at an online media company—the first step on the road to her dream writing career—she is ready to reinvent herself. But she didn't count on returning to her awkward and all-too-recent high-school experiences for her first writing assignment.
When her piece, about her non-existent dating life, goes viral, eighteen-year-old Zoe is overwhelmed and more than a little surprised by the response. But, with a deadline and a list of romantic contenders from the past to reconnect with for her piece on dating, she is hoping one of her old sparks will turn into a new flame.
Social Queue is a funny and heart-warming autistic story about deciphering the confusing signals of attraction and navigating a path to love.
What worked for me (and what didn't): I don't read a lot of YA – let's face it, I'm in it for the romance. Zoe is 18 and so technically an adult but the book is very much a YA, not least because while there is a romance with a hopeful HFN ending, the main story is of Zoe's own self-discovery and coming of age.
In her first year of university studying journalism, she wins one of three coveted four-week internships at "Bubble" an online media outlet which seemed something like a small Buzzfeed, based in her hometown of Brisbane. She's also recently dipped her toe into the murky waters of online dating (something I have no experience with because I'm old and married) and it hasn't gone so well. So she pitches an article for Bubble about her experiences as an autistic young woman navigating the apps. After the first article goes live, there are a five comments which seem to indicate that she'd missed prior signs from people she'd gone to school or worked a part time job with and that spurs a series where Zoe gets in contact with each of the five to find out what she missed and see if there's a spark of something now.
Romance readers will not be surprised by who the eventual HFN is with but I will not name names here.