Monthly Mini Review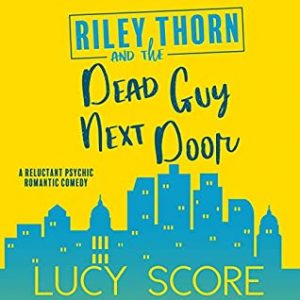 Riley Thorn & the Dead Guy Next Door by Lucy Score, narrated by Natalie Duke – B+ I picked up this audiobook for $4.95 when it was an Audible Daily Deal recently but as it happened it was easily worth the cost of a credit. What a delightful find! Not only did I stumble into a new-to-me author (with a significant backlist for extra bonus points) but a fabulous new-to-me narrator as well.
Riley Thorn comes from a family of psychic women but has rejected her heritage and lives in denial. Except, when she is confronted by a vision of her creepy neighbour being murdered, things start to get real. Nick Santiago is a private investigator who was trying to serve a summons on the guy who (spoiler alert) ends up actually dead and because reasons, he ends up investigating the murder, along with Riley.
Riley lives in a large shared house filled with old people (for reasons I didn't understand – perhaps I missed the explanation? – she has to pretend they're all related) and they're quirky, hilarious and also a wonderful found family. Riley is a bit of a caretaker and feels responsible for her neighbours and so wishes to protect them from any potential harm once it becomes clear that after the murder the bad guy may well be back for more nefarious deeds.