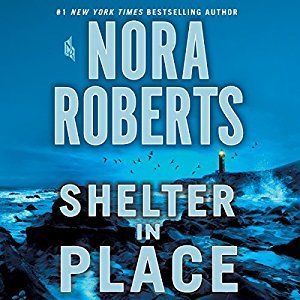 Why I read it:  I always buy Nora's stand alone romantic suspense books. This one is from my own TBL.

TW: Mass shooting
What it's about: (from Goodreads)  It was a typical evening at a mall outside Portland, Maine. Three teenage friends waited for the movie to start. A boy flirted with the girl selling sunglasses. Mothers and children shopped together, and the manager at the video-game store tending to customers. Then the shooters arrived.
The chaos and carnage lasted only eight minutes before the killers were taken down. But for those who lived through it, the effects would last forever. In the years that followed, one would dedicate himself to a law enforcement career. Another would close herself off, trying to bury the memory of huddling in a ladies' room, hopelessly clutching her cell phone – until she finally found a way to pour her emotions into her art.
But one person wasn't satisfied with the shockingly high death toll at the DownEast Mall. And as the survivors slowly heal, find shelter, and rebuild, they will discover that another conspirator is lying in wait – and this time, there might be nowhere safe to hide.
What worked for me (and what didn't): Like The Witness in structure, Shelter in Place tracks the main characters from youth, dipping in and out of their timelines until we reach present day. Unlike The Witness, Shelter in Place follows not only the heroine, but also the hero. It is a long time before Simone Knox and Reed Quartermaine actually meet. Though they are both at the DownEast Mall on the night of the shooting, they don't know each other and their lives take different trajectories for many years. I'm all about the HEA of course so one could be forgiven for thinking this bothered me. But the story hooked me from the opening seconds and for the most part I was too busy being engrossed in what was happening to be tapping my foot impatiently for the main characters to finally meet. Because Nora Roberts is the just that good, it was about the time that I started to feel a little antsy that my HEA-loving heart was blessed with Reed and Simone in the same room. From there, the romance progressed pretty smoothly – the conflict here is not about the relationship. It is all serial-killer based.