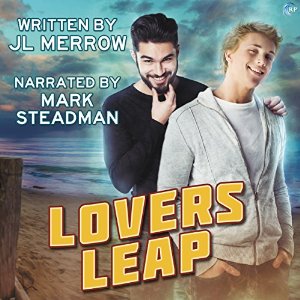 Why I read it:  I received a review copy via the publisher.

What it's about: (from Goodreads)  If they looked, would they ever leap?
Good-looking, confident, and doted on by his widowed mum, Michael is used to thinking only of himself. Getting shoved off an Isle of Wight pier by an exasperated ex ought to come as a wake-up call—but then he meets Rufus and he's right back to letting the little head take charge. Rufus is cute, keen, and gets under Michael's skin in a disturbing way.
Would-be chef Rufus can't believe his luck when a dripping wet dream of a man walks out of the sea on his birthday, especially when Michael ends up staying at the family B&B. Life is perfect—at least until Michael has to go home to the mainland.
Rufus can't leave the island for reasons he's entirely neglected to mention. And though Michael identifies as bi, breaking his mum's heart by coming out and having an actual relationship with a guy has never been his plan. With both men determined to keep their secrets, a leap of faith could land them in deep water.
What worked for me (and what didn't):  This book was an audio delight. The narration was, with only small exceptions, excellent and the story entirely suited the audio medium. One of my favourite things about JL Merrow books is her sense of humour and here I was actually laughing out loud in places.

A word of warning however: Michael says things, most especially at the start of the story which are biphobic, homophobic and transphobic. While he does gain something of an education in the book, the time frame is very short and it is not clear that at the end of it, he has resolved all of his issues. He, at least, acknowledges that he has them and he's working on them but he's incredibly lacking in self-awareness (awareness in general, really)  at the start of the story and his journey doesn't go into the kind of detail which fixes all of his… rough edges.