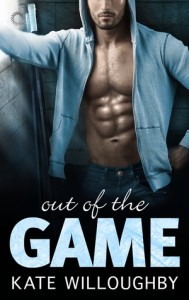 Why I read it:  I received a review copy from the publisher via NetGalley.

What it's about: (from Goodreads)  Alex Sullivan may be the San Diego Barracudas' resident playboy, but he hasn't been able to forget the woman who kissed him like her life depended on it ten months ago. When he sees her again at a teammate's wedding, he can't think of anything but spending more time with her. Preferably naked.
Claire Marzano lost years catering to an overbearing husband, and she's not going to answer to anyone ever again. A hot fling is just what she needs to get back in the game, and that's exactly what sexy Alex offers—one wild long weekend away, with no promises or obligations.
But that one weekend changes everything. Despite knowing full well Alex isn't the kind to ever commit, Claire is falling for him. And Alex secretly imagines a future with his strong, smart "accidental girlfriend." Until a surprise announcement and an on-ice accident threaten to derail everything…or cause Alex to finally ditch his old ways and become the man Claire needs him to be.
What worked for me (and what didn't):  I really enjoy this author's writing voice and I especially like the way she writes guys and the banter between the team mates. I liked On The Surface and loved Across the Line so I had high hopes for Out of the Game. More so because I liked Alex Sullivan in the earlier stories.  He's a charming rogue type character.  A bit of a manslut but not in a cheaty way. I don't have a problem with someone who wants to have lots of casual sex as long as they're not making promises they can't or don't keep.  If both parties are on the same page, it's all good IMO.  There is something great about watching a guy like this fall for "the One" and I was looking forward to what Ms. Willoughby would do with it.  It had such a promising start but it went off the rails for me about halfway in and never quite recovered.