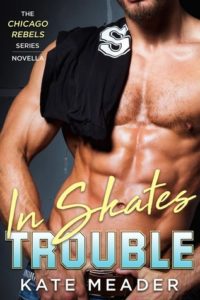 Why I read it:  I bought this for 99c recently.

What it's about: (from Goodreads)  He'll give her what she needs . . .
Addison Williams isn't looking for romance, but when she encounters an eavesdropping stranger on an adjoining hotel balcony, she figures she's due a little fun. She just hadn't reckoned on the "fun" escalating so quickly to "out of control." One minute she's flirting with a whiskey-graveled voice in the dark, the next that same voice is telling her to do things. Hot, wicked things.
Cup-winning hockey player Ford "Killer" Callaghan can't believe he let the anonymous woman who blew his mind slip away into the night. He'll track her down because once could never be enough—even if discovering her identity places her strictly out of bounds.
Stolen kisses. Secret hook-ups. Deliciously forbidden in every way. Can a passion that started in the dark find a lifetime of love in the light?
Originally published in Hot on Ice: A Hockey Romance Anthology, this sexy prequel to the Chicago Rebels hockey series features an older, curvy woman, a younger, driven hero, and a happily-ever-after you'll swoon over.
What worked for me (and what didn't):  In Skates Trouble is a longish novella about a star pro hockey player, Ford Callaghan, from a team based in New Orleans coming home to Chicago with the Stanley Cup for his "day with the cup" (it's a thing; I looked it up.) While on a hotel balcony the first night he's in town, he overhears a conversation between some women on the next balcony over, discussing how, in their experience, men's oral sex skills are definitely lacking. One woman in particular, complains that her ex-husband was never able to give her an orgasm. He shamelessly eavesdrops because of course but also he's particularly struck by the sexy voice of the woman who talked about her ex-husband. He likes not only the sound of her voice but what she says about how she's taking her life back. He thinks her ex-husband was a jerk. (He's right.) After the woman's friends leave, Ford and the woman have an intimate encounter each on their own separate balconies, neither one exchanging names.