on Paper/eBook
A Small Miracle Happened by Mari Donne – B-  This is a short sweet and sometimes sexy novella set mainly over the 8 nights of Hanukkah 2013. Dan is a Jewish man (although he doesn't keep kosher, it is nevertheless part of his heritage) in a new town over Hanukkah.  His neighbour Chris (short for Christian – guess what religion he is?) comes over when a package from Dan's grandmother containing a menorah and other Hanukkah goodies is delivered to Chris' place by mistake.  They strike up a friendship and more, as they spend the eight nights of Hanukkah together.  Chris doesn't know anything about Judaism really and he is curious and interested in Dan generally so he asks a lot of questions which Dan is only too happy to answer.  As a non-Jew I found the information about Hanukkah very interesting but I wondered whether Jewish people would have the same fascination as I did.  I did appreciate the safe sex message in the story but unfortunately, sometimes it all felt a little clinical and other times it was rushed.  Perhaps that's more about the short word count though.  I did like the story and there were parts of it which were very moving and there was some lovely poetry quoted in the text too.
"'The kingdom where nobody dies.' We all need to hide there sometimes, don't we, even when we know it's an illusion? Otherwise life is just too hard."
This line in particular, made me think about why I read romance.  (Even though characters do die in romance, for the most part you can at least guarantee the main characters make it).
I could easily have read a longer story with this couple and I loved Dan's family in particular, who embraced Chris early and brought him to to their loving embrace.  It's a Loose ID title so for the 70 or so pages, the price is a bit steep at $3.99 but I picked it up at the recent ARe sale and got a 50% rebate back which made it more palatable.  A satisfying evening's read, A Small Miracle Happened hit the spot for me.
BUY IT:  AMAZON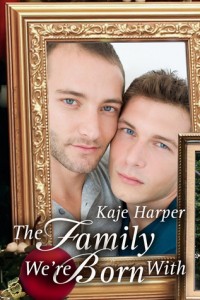 The Family We're Born With by Kaje Harper – C+ This is a free Christmas short which appears to be the first in a series.  Devin and Jesse have been together for five years and Jesse thought Devin had been accepted by his family.  So he is very hurt and angry when his mother asks him not to bring Devin on Christmas Eve because that is when she will meet for the first time, her eldest son, Sam; the child who was adopted out when she was just sixteen.  Sam is a former Marine and Jesse's mother doesn't want to freak him out with the gay the first time they meet.  The story is quite short and it doesn't just focus on Jesse and Devin – but also on Sam and his runaway brother.  I felt it had a bit too much going on to be entirely successful for me but it did succeed in whetting my appetite for more from this world. I like the way that Ms. Harper writes complicated families and hey, it's free.

DOWNLOAD IT:   SMASHWORDS