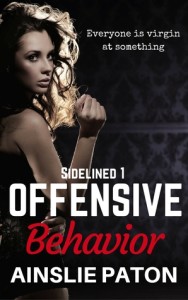 Why I read it:  I was provided with a copy by the author.

Disclosure: I'm friendly with the author on Twitter. We talk often. I know she's a super cool person who won't get bent out of shape if I don't like a book she writes and I feel comfortable that I can say what I think without it being awkward. So I'm reviewing this one. As always, readers get to decide if my opinion is helpful to them.
What it's about: (from Goodreads)  Everyone is virgin at something
This is the story of a man who's never done it, and a woman with the experience to teach him how.
Reid McGrath is drunk and intends to stay that way. It's what a man does when the world he built gets ripped out from under him. He's staked a claim on the back booth at Lucky's where he can fixate on a dancer who makes him wish things were different.
Zarley Halveston dances under shimmering lights in a barely there costume, but it's not the gold medal life she trained for. She expected to stand on an Olympic podium, instead she glitters under disco lights, gyrating on a chrome pole. Zarley can't see the brooding man in the back booth, but she knows he's there. He's toxic, but it's not her job to care, until the night he collapses at her feet and she has to choose to step over him or help him up.
Reid thought he'd hit bottom when he was fired as CEO of his own company, but knowing he'd needed the kindness of a stranger, and realizing she was the dancer he'd lusted after was a new low.
Question: What do a fallen golden girl and a sacked tech tycoon have in common except humiliation and failure?
Answer: The reawakening of a champion competitor and the sexual education of a frustrated geek.
What worked for me (and what didn't):  Reid McGrath is the weird loner guy who starts a multi-million dollar tech company but manages to have almost no people skills. (I've met people like him – except with less money.) He's been so focused on his company and coming up with brilliant apps and other software, he didn't really have time for women (that's his excuse anyway). But his woeful people skills collided with his company's "No Asshole" rule and he was fired. From his own company. Oh the humiliation. The rage!