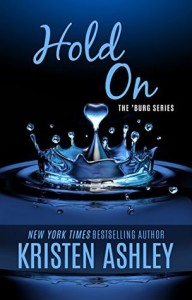 Why I read it:  I had this one pre-ordered from Amazon. I bought the audiobook too and switched between them.  The audiobook is narrated, very well, by Erin Bennett.

What it's about: (from Goodreads)  Since she was young, Cher Rivers knew she was not the kind of girl who got what she wanted. A girl who could hope. A girl who could dream. She knew a happily ever after just wasn't in the cards for her.
In love for years with the last bastion of the 'burg's eligible bachelors, Garrett Merrick, Cher worked hard at making him laugh. Being one of the guys. Having him in her life the only way she could. All this knowing he was in love with another woman.
The Merrick Family is known for loving deep. So when Cecelia Merrick was murdered, it marked the Merricks in a way none of them recovered. Both Cecelia's children found love. Both turned their backs on it. But Garrett "Merry" Merrick knew in his soul the woman he divorced years ago was the one for him.
Until the night when Cher took Garrett's back and things changed. The Merrick family loves deep. They also protect fiercely. And with his eyes finally open, Garrett sees the woman who truly is for him and he goes after her.
What worked for me (and what didn't):  It's only fairly recently that I've listened (mostly) to the other books in this series so the characters and stories were fresh in my mind. I was really excited to see that Cher was getting a story and that Ms. Ashley flipped the "one true love" theme of the series for Merry. Apart from At Peace where Violet and Cal had not previously met, all the other couples in the series had history going back many years. And, throughout the series, it was Merry and Mia. They'd been married but because reasons, they'd also been divorced and Merry was pining. Or, at least that's how it looked. This is actually dealt with pretty fast in Hold On. Merry imploded his marriage because his head was messed up over his mother's violent death. That cast a pall over Colt and Feb as well, so readers of the series will understand how that can happen. He pushed Mia away and that was that. Except, the narrative is turned around now because people start saying, "hey, she didn't stick, she knew you were messed up but she didn't fight for you. She is therefore NOT 'the one'. Get your head out of your butt and look around."