Monthly Mini Review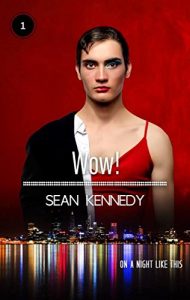 Wow! by Sean Kennedy – B+. This brand new release from Sean Kennedy feels like a little bit of a departure – for one thing, it's a bit hotter than I'm used to from him (not a complaint). Although it's not super explicit there are certainly more than kisses.
Mark Hodges works in a bank during the week, but on Saturday nights, he dons drag and becomes "Allotta Moxie" who struts her stuff on stage at a local gay bar, lip-syncing to ABBA, Kylie and other icons. In the past, revealing Allotta to a boyfriend has led to the demise of the relationship so he's cautious about who he tells and when.
Mark has a crush on Joel, a new employee (not a direct report so nothing icky here) at the bank but he's shy and lacks confidence. Allotta has a distinct personality. While the book does explicitly confirm that Allotta is an aspect of Mark's personality it is also clear that Mark only lets that side of himself out when Allotta is on stage. Outside of that, he's a shy boy. Allotta, however, is a maneater.