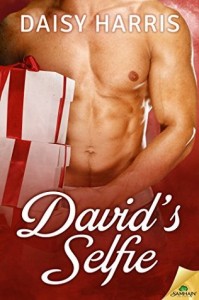 Why I read it:  I bought this one because I liked the look of the blurb.

What it's about: (from Goodreads)  When David, a single father, vows to get laid just once before the year ends, he doesn't figure on losing his cell phone—and with it one very revealing picture. Lucky for him, his phone is found by a disarmingly handsome man who might be perfect for the kind of casual Christmas fling David is after.
Go-go dancer Craig never would have guessed that the guy with the cute cock shot would turn out to be a doctor. Or that he'd find himself lying about his night job and worrying David will find out the truth. To complicate matters, each of their hook-ups requires days of planning. Yet before he knows it, Craig has a new boyfriend, and possibly a whole new family.
David's ready to dive head-first into something new, but if Craig's going to commit, he'll need to come clean about his job, his past, and—most of all—the naughty picture that drew him to David in the first place.

What worked for me (and what didn't):  I quite enjoyed this book – it was fun and sexy and kind of sweet, but an abrupt end, even with a brief epilogue set 10 years later, let the story down for me a little at the finish.