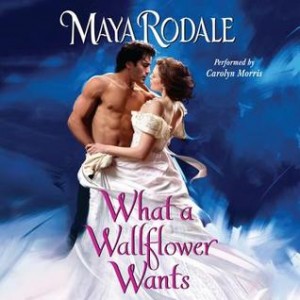 Why I read it:  I heard about this book on a DBSA Podcast so I bought it. I didn't share the view of the two Smart Bitches who read and loved it.  I can't tell how much of that exactly was due to the audio format but I think if I'd read the book it still would not have been a resounding success, even though I'm sure I'd have liked it better.  As it was, it was just okay for me.

What it's about: (from Goodreads)  Miss Prudence Merryweather Payton has a secret.
Everyone knows that she's the only graduate from her finishing school to remain unwed on her fourth season—but no one knows why. With her romantic illusions shattered after being compromised against her will, Prudence accepts a proposal even though her betrothed is not exactly a knight in shining armor. When he cowardly pushes her out of their stagecoach to divert a highwayman, she vows never to trust another man again.
John Roark, Viscount Castleton, is nobody's hero.
He's a blue-eyed charmer with a mysterious past and ambitious plans for his future—that do not include a wife. When he finds himself stranded at a country inn with a captivating young woman, a delicate dance of seduction ensues. He knows he should keep his distance. And he definitely shouldn't start falling in love with her.
When Prudence's dark past comes back to haunt her, John must protect her—even though he risks revealing his own secrets that could destroy his future.
Trigger Warning:  Sexual assault
What worked for me (and what didn't):  There's a thing that happens sometimes when a book is "translated" into the audio format.  There are things which don't work as well aurally as they do visually.  What A Wallflower Wants is a perfect example of when something doesn't translate well to audio.  It has a somewhat unusual structure.  At the end of some chapters (but not all, let's not worry about consistency) there is a section which I've seen (because a friend screen-capped a couple of pages and tweeted them to me) is in italics.  It has a section break before it and it is clearly out of phase with the rest of the story.  Even so, there is no time/date stamp above it.  It is apparent that these events take place a few days into the future – eventually the book catches up with itself.  They are always in John's POV.  This is made even more odd because when Prudence has a flashback they are always marked with a date/time to orient the listener (for example, "Four years ago"). It is only these odd little sections from the future which aren't so marked.  On audio they come out of the blue.  There is no aural representation that we are moving into the future and that the section is not in phase with the rest of the story.  It took me a while to work out what was going on. At first I thought it was a flashback but that didn't make sense the more I listened.  Eventually I asked on Twitter and my guess was confirmed.  When I'm listening, I have only my ears to orient me to the physics of the story. I can't easily skip around sections like I can in a paperback or a digital file and I can't see the visual cues on the page. I can't see the italics.  This story flips about quite a bit – in fact, there was one part where I'd accidentally left my iPod running and I missed a couple of chapters and when I started listening again I didn't immediately realise my mistake – I thought it was just the book messing with me again.  (I did realise after a while and went back and listened to the bits I'd missed).