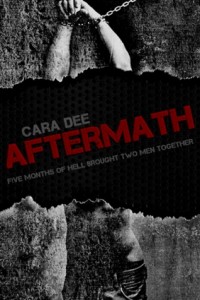 Why I read it:  Mandi from Smexy Books recommended this one so I bought it.

What it's about: (from Goodreads)  Austin Huntley and Cameron Nash are like night and day. One is a family man, works in a nice office, drives an expensive car, and is content to be content. The other one is an antisocial car mechanic with a short fuse.
Some things don't change. Others definitely do.
After surviving a five-months long kidnapping together, they struggle to return to normalcy, all while realizing that they're more drawn to each other than they ever could've imagined.
"I know I'm not normal, but I'm not fucking stupid."
"Define normal," Austin countered quietly, meeting Cam in the doorway. "And for not being normal, you're the only person in the world who makes sense right now. What does that say about me?"
What worked for me (and what didn't):  I had been warned that the kidnapping and torture to which the men were subjected weren't pretty – they weren't but they also weren't as bad as the average episode of Criminal Minds either.  Spending five months locked in a cell together with little light, little food and water and no answers, with the occasional violent beating thrown in is sure to have a profound effect on a person.  Austin and Cam had a shared experience which made them very different men. I didn't have any trouble believing they would become close and, even the development of their sexual feelings toward one another seemed to grow organically out of it.  I had expected a bit of an angst-fest, but it wasn't really that.  There were parts of the book which I enjoyed very much but other parts with bothered me.