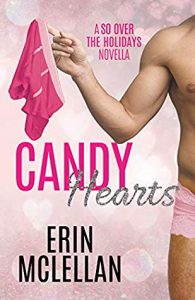 Why I read it:  I saw some buzz about this one on Twitter so I bought it.
What it's about: (from Goodreads)  Mechanic Benji Holiday is so over Valentine's Day and men who don't get him. A weekend getaway with friends to escape the holiday hubbub is exactly what he needs. But William O'Dare—a stern and silent nightclub owner with "Be My Valentine" practically stamped on his forehead—throws a wrench into Benji's plans.
William has spent years focused on his career, and it has cost him friendships and love. Inexperienced in the business of romance, he's on the hunt for the perfect partner, and he's armed with specific criteria to guide him. But William didn't expect a hunky mechanic wrapped in satin and lace to show up on his doorstep.
Unable to resist their attraction, Benji and William agree to be secret fake valentines for the weekend, but secrets have a way of getting out. William gets struck by Cupid's arrow, and as the weekend winds down, he doesn't want fake or secret. He wants Benji to be his valentine for real and for keeps.
What worked for me (and what didn't): What a charming delight this novella was! Benji was funny and sweet and he won my heart as he was winning William's. And William was fabulous too in his own way. Benji is more out there, very emotionally open and a little messy. William is more controlled and reserved but the perfect foil for Benji. Both of them are emotionally vulnerable and very brave as they find their way toward one another and I loved how the dynamic shifted from one to the other in that regard.