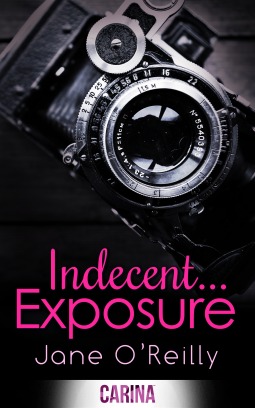 Why I read it:  The author contacted me requesting a review and sent me a NetGalley link.

What it's about: (from Goodreads)  Setting up the money shot…
Quiet, sensible Ellie Smithson is a highly respectable photographer by day – but there are only so many wedding photo-shoots you can take without your mind wandering to what happens when the blissfully happy bride is swept off her feet and straight to the honeymoon suite's sumptuous four-poster bed…
So after dark, Ellie takes pictures of a more…intimate nature – a dirty little secret she's kept from her accountant Tom. Until now. It seems Tom is the subject of her next racy shoot!
It isn't just the blurring of work and personal boundaries that's the problem; secretly Ellie has always had fantasies of a most unprofessional nature about the almost illegally gorgeous Tom. With such temptation on display, how will she ever stay behind the camera?!
The first book in the Indecent… trilogy
What worked for me (and what didn't):  I probably accept less than 10% of direct review requests. I have limited time and a massive TBR so the email has to get my attention and blurb has to hook me. This one did.  I finished a book last night and was flailing about for something to read.  Sometimes, when I can't decide what I should read next (because having so many books can feel paralysing as Liz eloquently says here), I choose a novella.  It's not a big commitment and it works as a kind of palate cleanser for me.  So, I opened Indecent Exposure.

I suppose the first couple of paragraphs were just a little on the clunky side but after that, I was completely reeled in (to complete the fishing metaphor).  The story is told in the first person present tense POV of Ellie Smithson, photographer by day, erotic photographer by night (well, sometimes that's during the day too).  She kind of fell into it to pay the bills and she's found it's not only lucrative, she's very good at it.  Basically, people come and have sex (alone, with someone else, etc) in front of her and she takes classy photographs of them.  It turns her on unbearably but she feels safe behind the camera.
Ellie's best friend Amber has been recently dumped by her two-timing boyfriend and she's just found out they're getting married.  She's picked up Tom in the bank and they're at Ellie's studio for some photos Amber can mail to her douchebag ex to show she's moved on baby.  Only, Tom is Ellie's accountant.  She's see him every month for 3 years and he doesn't know she does erotic photography (or, as Amber calls it, porn). Ellie has had a crush on Tom ever since she first met him but she's painfully shy and not sexually confident (unless she's behind the camera).  It's not long before Tom is encouraging Ellie out of her self-imposed cage.  Ellie finds she likes this new version of herself – the brave, adventurous, happy version.
I thought the book was tightly plotted (I did have one question about Amber's ex-boyfriend but it didn't impact the main story) and cleverly interwoven. It's about 75 pages long, and a very easy read – I think I knocked it back in about an hour.  The style is very engaging, with that British self-deprecation I enjoy.
'It's OK,' he tells me. 'I don't mind. Do you want me to touch you some more?'
I'm nodding before I even know I'm doing it. Nodding so much my teeth clack together and it's a miracle my head doesn't fall off.
He lifts his hand, angles it in, slides the tips of his fingers under the elastic of my knickers, and then stops. 'On one condition.'
'What?' I huff out. I'm hardly in a condition to speak, and now he wants to negotiate?
'You have to look at the pictures while I'm touching you.'
I shouldn't do this. I should pull his hand out of my underwear, and close the laptop and send him away. I'll find myself someone else to do my taxes and we'll never speak of this again, probably because I've moved to a remote island and am reduced to foraging and taking photos of sheep for Sheep Lovers Weekly
The sex scenes felt refreshingly original to me and earthily delightful – somewhat reminiscent of Charlotte Stein in fact.
Ellie is dyslexic and feels a great deal of shame about this.  I suppose shame is one of the gamut of feelings one might have about dyslexia but I was a little surprised that, in this day and age, Ellie struggled with it so much.  She feels stupid and ashamed and this keeps her at a distance from others.  There isn't enough backstory (it is, after all, a novella) to fully understand this, but for what it's worth, I felt that the portrayal made sense if you accepted as believable her feelings about her learning disability.
I suppose I could have wanted a little more romance (but not less sex – it was really good), but, also like Charlotte Stein, there were gleanings of the romance in the subtext as well and even though the speed of the exchange of "I love you" was very fast, I did find myself believing in their HEA.  Tom sees Ellie.  Even not spending time in his head, this was clear to me and that made all the difference. Tom gets some backstory too which makes him feel unique and individual.  I was curious about both of them but very satisfied with the story I read.
The conflict when it comes is organic to the story and the personalities of the characters and the resolution is (thankfully) not drawn out.
Frankly, I thought this one was a little gem.  Highly recommended.
Grade: A-/B+

PS – there is an excerpt in the back for the second in the trilogy, Indecent Proposal (Kobo  Amazon) which features Amber – it's a kind of enemies to lovers/best friend's brother story and the excerpt confirmed that Indecent Exposure wasn't a fluke. I'll definitely be picking this and the last book, Indecent Desires (Kobo  Amazon) up when they're released on 11 and 18 March respectively (but they're available for pre-order now).