Monthly Mini Review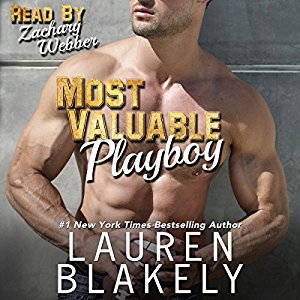 Most Valuable Playboy by Lauren Blakely, narrated by Zachary Webber – B Lauren Blakely writes reliably good, fun and sexy contemporary romance and I usually enjoy them on audio. Zachary Webber has improved significantly since he first started narrating and he was pretty good to start with. Blakely gets some of the best narrators for her books. Perhaps it's her superpower?
Most Valuable Playboy is one entirely from the hero's POV and that is pretty much catnip to me anyway as a hero-centric reader/listener. And I do have a soft spot for fake relationship, best friend's little sister and friends to lovers tropes, all of which are in play here.
Cooper is the starting quarterback for the San Francisco Renegades, a fictional NFL team. He's up for contract renewal and unfortunately the team owner's sister is hitting on him without mercy. He is not interested but he doesn't want to rock the boat by complaining about the sexual harassment he's receiving for fear of ruining his chances to stay with his beloved team. So his good friend Violet steps up and helps him out. Only the pretense reveals real feelings to Cooper, who then has a whole nother set of problems. His best buddy is very frowny about the whole thing and what if Violet doesn't feel the same way?