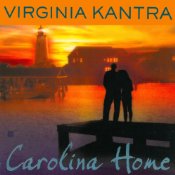 Why I read it:  A well done small town romance is just what I was in the mood for.  Plus, I wanted to be caught up on the series before the third book comes out in March.

What it's about: (from Goodreads)  Home to the Fletcher family for generations, Dare Island is a fishing village rocked by changing times – its traditions slipping away like sands of the North Carolina coast. Single dad and fishing boat captain Matt Fletcher deferred his own dreams to support his innkeeper parents and build a future for his sixteen-year-old son. Matt has learned to weather life's storms by steering a steady emotional course…and keeping a commitment-free approach to love.
Newcomer Allison Carter came to Dare Island to escape the emotional demands of her wealthy family. The young teacher aims to build a life here, to make a lasting place for herself. She doesn't want to be another Woman Who Once Dated Matt Fletcher. It's both tempting and dangerous to believe she can be something more.
Then Matt's brother Luke makes a sudden return home, with a child of his own – and a request that will change all their lives. With a child's welfare at stake, Matt must turn to Allison to teach him to let go of the past, open his eyes…and follow his heart.
What worked for me (and what didn't):  This story is in part about the Fletcher family – that arc is unresolved at the end of the book and I gather will be wrapped by by Luke's story (the book coming out in March).  Then each book has a "complete" romantic storyline.  Matt is the eldest Fletcher (he's 36), a single parent to son Josh, now 16.  His wife left him when Josh was just a baby and has had basically nothing to do with her son since.  Matt dropped out of college to support his wife and son and when his wife left, he moved back to Dare Island where his family have settled.  He is passionately committed to his family but leery of relationships.  After the devastation that was his marriage and seeing the hurt Josh experienced when at age 8 there was a (small and badly done) attempt by his mother to establish a relationship, he's determined that he will protect himself and Josh from someone whom they will come to love, only for that person to leave them. He makes a reasonable living as a charter fishing captain, with some commercial fishing in the off season and he has very short term relationships with "summer girls" or off-island people that don't impact his family.

Allison Carter is 25, idealistic and enthusiastic about teaching but not naive.  Her family is wealthy and disapproves of the fact that she is doing a "menial" job and that she's not married to someone who would make them look good to their Country Club cronies. (Allison's mother, in particular, is pretty much a stereotype but I did appreciate there was some attempt to flesh her out a bit.)  Allison teaches English to Josh and is initially concerned at his lack of engagement in class, so she goes to speak to his father.  Sparks fly between them and fairly soon, Matt and Allison are having a bit of a fling.  It's a no strings affair but Matt does make some attempts to "change the conversation" on the island so that Allison's reputation as a teacher isn't adversely affected.
The thing which bothered me about an otherwise delightful listen was that things kept happening too fast for me.  I think this is to enable the three romances to fit into the overarching plot, but there were times when I *may have* exclaimed out loud about it.  For instance, after Matt has had one sort-kinda-date with Allison (they had a drink together, initially to discuss Josh) she is feeling crushed because he hasn't confided in her about all the things that are going on in his life.  Like how his younger brother Luke, who is deployed in Afghanistan, took a brief emergency leave to bring his heretofore unknown ten year old daughter to his parents to care for while he completes his deployment, and all the uproar this has caused for their family.  Because, that's what you talk about to someone you've just met.  You just tell them your whole life story. Of course. *rolls eyes*  So, there was a bit of that.  Even the ending felt too fast to me.  Romance readers won't be surprised to know that Matt's fears are overcome by his love for Allison but they had only been dating for a few weeks and the M word was a bit soon for me.  And, given Matt's previous reticence, just a titch unbelievable.
But, I did believe that Allison and Matt belonged together and made a good pair.  I wasn't concerned about their age difference – they seemed to relate just fine so far as I could tell.  Allison did surprise me in pleasant ways with her sexual forthrightness and adventuresome spirit.  And Matt has the smooth moves.
The book reminded me a little of the early books of the Virgin River series by Robyn Carr (although there is a much lower angst factor here) or the Kowalski books by Shannon Stacey.  Time is spent with Matt's parents, Tess and Tom, a little with Joss and a girl who likes him, Thalia, and Taylor, Luke's daughter, who becomes very close with Matt during the course of the book.  These other characters felt fully realised to me and they weren't all perfect (even Allison makes some rather impetuous and incorrect assumptions about Matt right at the start).  I suppose it did take some page time away from the main romance but the characters and their stories were interesting enough to me that I didn't resent it.
I liked the Fletchers and I'm looking forward to spending more time with them – next, in Carolina Girl, Meg Fletcher's story, which I have in print.
I also think I've found another contemporary author for my buying list – I've already picked up a couple from other Kantra series.  Thank you Brie for the recommendation 🙂
What else? Sophie Eastlake is a narrator I've found to be reliably good at delivering character.  Her male character voices are sometimes hard to differentiate, but here she did better than I've previously heard with those things. Tom sounded quite different to Matt and Josh sounded different again.  I think there was also enough of a difference between Sam and Matt (Sam is Meg's hero) as to make it fairly easy to tell them apart.  Though Luke and Matt were not so easy to differentiate.   She also does child voices (Taylor) in a way which sound childish but not a caricature.  And the older women in the story (Tess, Allison's mother) were also different from Allison and from each other.

I had just finished listening to anothe Sophie Eastlake narrated book (Wait for Me by J. Lynn), as it happens but the pacing and the delivery of the two stories was sufficiently different that I was always correctly oriented.  Ms. Eastlake also does the Elder Races books by Thea Harrison. This is where I mostly know her from.  I'm happy to see her name on an audiobook – whatever my occasional concerns about differentiation between the male characters, she is skilled with emotion and tone and I can trust her for a good listen.
Grade: B

*the buy links are for the ebook or paperback but you can get the audiobook from Audible either direct or via the Amazon link.